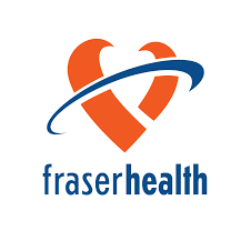 Etablissement/Institution:Fraser Health, Canada, Surrey
Discipline: Cardiologie
Type d'emploi:Temps-plein
Date de publication:2021-09-14
Personne à contacter:Si vous souhaitez poser votre candidature à ce poste, merci de préciser que vous avez consulté l'offre sur LeJobMedical
Job Title: Cardiac Exercise Specialist
Posting Number : 1059178
Geographic Location: White Rock
Are you someone who enjoys planning and supervising exercise sessions for cardiac rehabilitation patients? Do you want to work for one of British Columbia's top employers? Do you have the ability to evaluate and interpret clinical data? If you have answered yes to these questions we encourage you to continue reading.
Fraser Health is an equal opportunity employer that values diversity in the workplace. We are located in Metro Vancouver and the Fraser Valley, one of the most livable regions in the world, and one of Canada's largest and fastest growing health authorities. With over 1.8 million people, we serve 1/3 of BC's entire population and have 33,000 dedicated professionals in our 12 hospitals and other facilities that expand from Burnaby to Hope.
Fraser Health currently has exciting opportunities as a Cardiac Exercise Specialist at Peace Arch Hospital in White Rock, BC.
Build on your education and experience as you:
Assess and evaluates patient's functional status and risk factors and develops an exercise prescription by reviewing patient information, interviewing the patient to ensure patient's needs/goals are met/addressed and collaborating with the members of the health care team.
Coordinate exercise schedules for patients; plans and conducts exercise sessions utilizing case management techniques; demonstrates exercise equipment and explains principles of exercise training to ensure patients are exercising to their greatest benefit.
Respond to patient complications such as fainting or heart attack during exercise by initiating and/or assisting in emergency care, calling 911 and documenting incident in accordance with established procedures.
Counsel patients and their families regarding lifestyle changes, active living exercise program guidelines, the principles of training and the value of a home exercise program.
Maintains current knowledge related to cardiac rehabilitation by reviewing relevant materials, attending seminars and identifying new trends to ensure information provided to patients is current.
To join the organization we require you to have:
Bachelor's degree in Exercise Science, Kinesiology, Physical Education, Sports Medicine or Physiology
Two (2) years' recent related clinical experience in a cardiac rehabilitation environment
Certification with American College of Sports Medicine (ACSM)-Certified Clinical Exercise Physiologist (CCEP), current CPR Level "C" certification or equivalent and Advanced Cardiac Life Support (ACLS) certification
Eligible for registration with the Canadian Association of Cardiac Rehabilitation
If this sounds like the ideal role for you, here are more reasons why you should apply:
A career that offers you the opportunity to work in a fast growing and exciting organization with professionals who are excellent in their respective fields.
Fantastic opportunities for support and mentorship into supervisory and management roles are available as you advance within the organization.
An opportunity to make a difference every single day in the world of health care.
Take the next step and apply so we can continue the conversation.
Come work with dedicated health care providers who are enthusiastic and committed to provide quality healthcare to our clients/patients/residents. We invite you to find out why more than 95% of new employees recommend Fraser Health as an excellent place to work. Work hard and have fun while you do it.
Curious to learn what it's like to work here? We recommend you like us on Facebook (@fraserhealthcareers), follow us on Twitter & Instagram (@FHCareer), or connect with us on LinkedIn (fraserhealthcareers) for first-hand employee insights.
Employment Type: Casual
FTE: 0
Rate: $33.13 - $41.43 / hour
Program/Service: Primary Health Care - CARES Initiative
Personne de contact: Si vous souhaitez poser votre candidature à ce poste, merci de préciser que vous avez consulté l'offre sur LeJobMedical