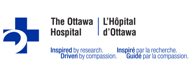 Etablissement/Institution:Ottawa Hospital Research Institute, Canada, Ottawa
Discipline: Autre
Type d'emploi:Temps-plein
Date de publication:2019-03-31
Personne à contacter:Si vous souhaitez poser votre candidature à ce poste, merci de préciser que vous avez consulté l'offre sur LeJobMedical
Contact/Scientist: Dr. Hsiao-Huei Chen
Program: Neuroscience
The Ottawa Hospital: Inspired by research. Driven by compassion
The Ottawa Hospital Research Institute is the research arm of The Ottawa Hospital and an affiliated institute of the University of Ottawa. With more than 1,700 scientists, clinician investigators, trainees and staff, and total revenues of more than $100 million, we are one of the foremost Canadian hospital-based research institutes. We are investigating virtually every major disease and condition, with a focus on answering important health questions and translating our findings into benefits for patients and society.
Brief job description:
Our lab is interested in understanding the neuro-immune mechanisms that underlie susceptibility to stroke, type 2 diabetes and neurodegenerative disease. The techniques used including transgenic mouse models, combination of biochemistry, cell biology and cutting edge in vitro and in vivo fluorescence microscopy imaging techniques.
Two immediate focuses are:
Alzheimer's disease
Autism
The laboratory is equipped with molecular and electrophysiology (patch-clamp) equipment and a cellular biology imaging system. The Centre is equipped with a two photon-uncaging and imaging system to facilitate the study of synaptic plasticity. The trainees will have the opportunity to learn and perform animal surgery and animal behavior studies, depending on the projects. The PI is currently funded by the CIHR, Canadian Alzheimer's Society.
For more details, see our recent publications:
Neuron 2015 (http://www.ncbi.nlm.nih.gov/pubmed/25754825)
Cir Research 2015 (http://www.ncbi.nlm.nih.gov/pubmed/26195219)
J of Neuros 2014 (http://www.ncbi.nlm.nih.gov/pubmed/24381275)
J of Neuros 2012 (http://www.ncbi.nlm.nih.gov/pubmed/22442089)
Eligibility Requirements (Education/Experience):
Postdoctoral candidates should hold a recent PhD in life sciences and be committed to a career in neuroscience research. Technician candidates should be well trained in electrophysiology or molecular biology.
Benefits and Opportunities:
Research Technician Pay Scale $19.749/hr (min) to $28.541/hr (max).
Postdoctoral Fellow $40.000.00 (minimum annual stipend)
Comments to applicant: Please send a complete CV with a statement of research interests to:
Dr. Hsiao-Huei Chen
Associate Professor and Senior Scientist
Neurosciences Division
Centre for Stroke Recovery
Ottawa Hospital Research Institute
451 Smyth Rd., Rm 2422
Ottawa, Ontario
K1H 8M5
hchen@uottawa.ca
http://www.ohri.ca/profiles/chen.asp
We thank all applicants for their interest.  However, only those invited for an interview will be contacted.  The Ottawa Hospital Research Institute is an equal opportunity employer. Upon request, accommodations due to a disability are available throughout the selection process.
Personne de contact: Si vous souhaitez poser votre candidature à ce poste, merci de préciser que vous avez consulté l'offre sur LeJobMedical